Sin City: Robert Rodriguez's stylish adaptation of Frank Miller's graphic novels is the best film of the year, and not simply for its breathtaking effects, brilliant cinematography or the inspired casting of baby-faced Elijah Wood as a deranged cannibal. Sin City is a landmark achievement, a seamless transition from the page to the screen that renders Miller's shadowy red-light districts and whiskey-breathed anti-heroes the ultimate guilty pleasure.
Capote: He probably won't take home the Best Actor Oscar at this year's Academy Awards – smart money has that honor earmarked for Brokeback Mountain's Heath Ledger – but nobody delivered a stronger performance last year than Philip Seymour Hoffman as Truman Capote, the calculating, conflicted and flamboyant author who traveled into the heart of the rural Midwest to investigate the slaughter of a Kansas family. The trip produced In Cold Blood, one of the groundbreaking non-fiction works of the 20th century, but it left Capote emotionally and spiritually spent. Hoffman depicts the breakdown masterfully, without ever losing sight of his character's dark side.
Syriana: Director Stephen Gaghan's sophomore effort is a tense, labyrinthine indictment of American foreign policy in the Middle East and the lengths to which Washington insiders will go to secure U.S.-friendly oil contracts. If it seems confusing, with its myriad subplots and overwhelming cast of scheming politicos, that's understandable: Syriana exists in a deceptive world of back-room deals and betrayals, where nothing is ever as it seems, either to the characters or the audience.
The Constant Gardener: Another timely political drama, this time based on a John le Carré bestseller about corrupt healthcare providers in Northern Kenya who will stop at nothing to promote a dangerous new wonder-drug. Like Syriana, it's a biting indictment of a system driven by corrupt corporate interests, but Constant Gardener is more than just a savvy polemic. It's the story of a man, heartbroken by the murder of his wife and driven by rage to expose the dirty secrets of her killers. That he succeeds, and pays the ultimate price for his success, is what makes the movie both tragic and, finally, a rousing triumph.
Hustle & Flow: James Brown may be the Hardest Working Man in Show Business, but he had nothing on Terrence Howard in 2005. After more than a decade of tearing through bit parts in forgettable fare like Biker Boyz and Big Momma's House, Howard enjoyed a big-time breakthrough, complementing supporting roles in Four Brothers, Crash and Get Rich or Die Tryin' with a star-making turn in Hustle & Flow. The movie, about an ambitious pimp desperate to break into the hip-hop game, offers an unflinching portrait of hard-edged poverty, but it doubles as an inspiring underdog story, and has a gritty authenticity that even 50 Cent's biopic fails to match.
Walk the Line: Taking a cue from Jamie Foxx in Ray, Joaquin Phoenix and Reese Witherspoon not only act the parts of Johnny Cash and June Carter, but sing the couple's classic duets as well. Remarkably, the results are pitch-perfect, and the story of Cash's drug-addled rise to superstardom is more than strong enough to provide a worthy framework for their virtuoso performances.
Kiss Kiss, Bang Bang: Shane Black, whose formidable screenwriting credits include Lethal Weapon and The Last Boy Scout, deftly jumps into the directorial game with Kiss Kiss, Bang Bang, a delicious slice of pulp that should satisfy even the pickiest Tarantino fans while the master is off trashing the eastern European hostel industry. Energized by brilliant chemistry between co-stars Val Kilmer and Robert Downey Jr., it's a heady, quick-witted trip through Black's favorite haunt – the seedy, seductive Hollywood underworld, in which the stars aren't so far removed from the killers they play on TV.
Millions: Shallow Grave. Trainspotting. The Beach. Millions? Yes, Danny Boyle does family films that are every bit as clever and affecting as his racier fare, as proven by this overlooked gem, in which two boys (Alex Etel and Lewis Owen McGibbon, delivering eye-opening performances) discover stolen treasure and embark on a charitable crusade.
Serenity: Joss Whedon's short-lived Firefly series may have suffered an untimely demise at the hands of FOX network executives, but even Rupert Murdoch couldn't stop the signal. As luck would have it, Universal picked up the tab for Serenity, a big-screen adventure that finds Whedon's posse of cheerfully subversive space cowboys fighting a Big Brother-like parliament and an army of flesh-eating mutants. Sound silly? It is, and thanks to a sharp-witted script, refreshingly minimalist effects and smart alecky leading man Nathan Fillion, it's the most enthralling sci-fi fantasy since Starship Troopers.
The Devil's Rejects: Yes, it's sick, depraved, repulsive… and, in its own twisted way, one of the most brutally effective horror films since 1974's Texas Chainsaw Massacre. And that's no accident – director Rob Zombie has spent the better part of the last five years crafting the ultimate throwback to the nightmarish, no-frills terror inspired by '70s filmmakers like Tobe Hooper and Wes Craven. After debuting with the wildly uneven House of 1000 Corpses, Zombie has finally found his voice. Who knew it would be worth listening to?
Best Actor: Philip Seymour Hoffman, Capote 
Best Actress: Reese Witherspoon, Walk the Line 
Best Supporting Actor: Matt Dillon, Crash 
Best Supporting Actress: Rachel Weisz, The Constant Gardener 
Best Director: Robert Rodriguez, Sin City 
Honorable Mentions: Robert Downey Jr., Kiss Kiss, Bang Bang, Catherine Keener, Capote,
Terrence Howard, Hustle & Flow, Benicio Del Toro, Sin City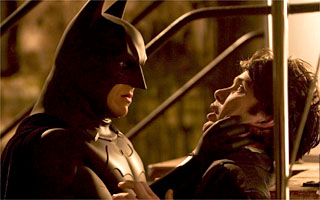 And the rest...
Alone in the Dark ½*
The Aristocrats ***
The Bad News Bears ***
Batman Begins ****
Boogeyman **½
Brokeback Mountain
Broken Flowers
The Brothers Grimm **½
The Chronicles of Narnia: The Lion, the Witch and the Wardrobe ***½
Cinderella Man ***½
Crash ***½
Deuce Bigalow: European Gigolo ½*
The Dukes of Hazzard *½
Four Brothers ***
The 40-Year-Old Virgin ***½
Get Rich or Die Tryin' ***
Harry Potter and the Goblet of Fire ***
High Tension **
A History of Violence ***½
Hitch **½
House of Wax *½
In Good Company ***
The Jacket ***
Jarhead
Just Like Heaven ***
King Kong
Land of the Dead ***½
The Legend of Zorro **½
Proof **
The Ring Two **½
Robots **½
Sahara ***½
Sarah Silverman: Jesus is Magic **½
The Skeleton Key ***
Star Wars Episode III: Revenge of the Sith ***½
Two for the Money **½
Underclassman **
Unleashed ***½
Wallace and Gromit: The Curse of the Were-Rabbit ***½
War of the Worlds ***
Wedding Crashers ***½